Stop Frozen Pipes From Causing Chaos This Winter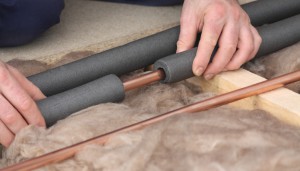 Wintertime means many things for many people, but all homeowners have something in common: they have to worry about the cold weather and their home's plumbing and pipes. Without proper precaution, frozen and burst pipes can cause a lot more trouble than they're worth.
Frozen pipes can occur in any part of the country, even in warmer climates because homeowners there may not be as prepared. Fortunately, there are a few ways to prevent pipes from bursting in your home.
• Insulate. The number one way to prevent frozen pipes is to make sure there is sufficient insulation to keep them warm. This not only includes insulating the pipes themselves with a foam sleeve or heat tape, but it also means making sure the colder parts of your home are insulated too, such as attics, crawl spaces, and basements.
• Circulate. Another great tip is to make sure that warm air can reach your pipes no matter where they are located. For example, many pipes are hidden behind cabinets, so keeping cabinet doors open in the kitchen and bathroom can help prevent freezing. Stopping cold air from entering your home is equally important – if you have water supply lines in the garage or basement, make sure exterior doors stay shut.
• Keep the heat on. If you're traveling for any extended period, keep the heat in your home on at at least 55 degrees. This should be enough to stop pipes from bursting – and the expense from heating your home is nothing compared to the cost of repairing leaks and flooding!
• Last measures. If frozen pipes are a severe, annual problem in your home, more drastic measures might be needed. Talk to a remodeler about relocating pipes and save yourself the stress that comes around every winter.
One way to tell if a pipe is frozen – besides watching it burst – is to see how much water is coming from a kitchen or bathroom faucet. If it's only a trickle when it usually isn't, you might be dealing with a frozen pipe. In that case, keep the faucet on and gently apply heat to pipe using something like a heating pad or a hair dryer: don't use an open flame or anything flammable.
Keep applying heat until the water pressure is back to normal. And remember – if one pipe is frozen, others might be too, so be careful and look for further signs of freezing. If you're not sure, call in a professional.
If you follow these tips and remember that you can always ask for help to insulate or winterize your home, you'll enjoy a warm, safe winter indoors!